Nail care is an art, and if you're the type who loves flaunting fabulous nails, you've likely encountered the never-ending dilemma of choosing between gel nails and traditional nail polish. But here's the twist – can you combine the best of both worlds? Can you put regular nail polish over gel nails? In this comprehensive guide, we will explore this intriguing question and provide you with all the insights you need to make your nails shine like never before. So, let's dive into the world of stunning nail art!
The Art of Applying Nail Polish Over Gel Nails
Gel nails have taken the manicure world by storm with their long-lasting, chip-resistant properties. But sometimes, you want that extra pop of color or a specific nail art design that regular nail polish offers. Here's how you can make it happen:
Prep Your Gel Nails: Start with clean, well-prepped gel nails. Ensure they are free from any oil or residue. You can follow our DIY Pedicure at Home

guide for essential nail preparation tips.

Choose Your Colors: Select your favorite regular nail polish colors. Gel nails provide an excellent base for these vibrant hues.
Apply a Base Coat: Begin with a thin layer of clear base coat. This acts as a barrier between your gel nails and the regular nail polish. A quality base coat can be found in our Nail Manicure Kit

.

Paint with Precision: Apply your chosen regular nail polish color in thin, even coats. Allow each layer to dry before applying the next. This will prevent smudging and ensure a smooth finish.
Seal the Deal: Finish with a clear top coat to protect and seal your regular nail polish. This adds a glossy finish and extends the life of your manicure.
Recommended Tools and Products: To achieve the perfect look, consider using a high-quality base coat, regular nail polish, and top coat. You'll find an array of options at ShopBestGoods.
Choosing the Right Nail Polish for Gel Nails
When combining regular nail polish with gel nails, it's essential to choose the right nail polish brands and colors for a flawless finish:
Best Nail Polish Brands: Explore renowned brands known for their long-lasting and vibrant regular nail polish. Brands like OPI, Essie, and Sally Hansen are popular choices.
Matching Polish with Occasions: Consider the occasion and your outfit when selecting nail polish colors. Classic reds, neutral nudes, and shimmering metallics are versatile options. For a wide range of nail polish brands and colors, read our blog about Salon Perfect Nail Polish

.
Maintaining a Perfect Manicure with Gel Nails
Your stunning manicure deserves some TLC. Here's how to maintain it:
Daily Care: Moisturize your cuticles and the skin around your nails to keep them healthy and hydrated. Our UV Nail Polish Gel

can help maintain that glossy look.

Weekly Routine: Gently buff your nails to maintain their shine. Apply a top coat every few days to prevent chipping. Explore our Gel Nail Set

for top coat options.

Chipped Polish: If you notice chipped regular nail polish, touch it up with the same color to keep your manicure looking fresh. The 120g Colored Acrylic Powder

could be your perfect match.
Nail Art Ideas for Gel Nails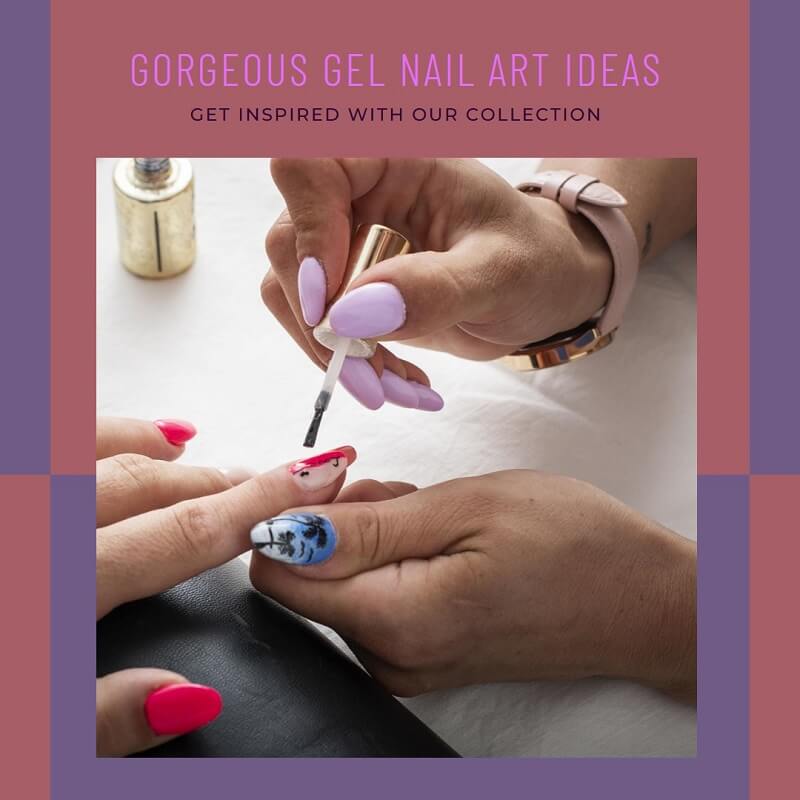 Creativity knows no bounds when it comes to nail art. Whether you're a fan of intricate designs or prefer a minimalist look, gel nails provide an excellent canvas for your creativity:
Classic French Tips: Achieve timeless elegance with a French manicure. Combine your gel nails with regular white polish for a sophisticated look. Find inspiration at ShopBestGoods' Colors for French Manicure

.

Glitter and Sparkle: Add some pizzazz to your gel nails with glitter and shimmer. Experiment with different nail art trends for a dazzling effect.
Abstract Art: Let your imagination run wild with abstract nail art. Bold colors, geometric shapes, and asymmetrical patterns can make a striking statement.
For a complete guide on nail art designs and trends, explore our American French Manicure blog post.
Remember, you can explore various nail art designs and trends both at home and in the salon. The choice is yours!
Removing Nail Polish from Gel Nails
Eventually, you'll want to switch up your nail color or design. Here's how to remove regular nail polish from your gel nails safely:
Gentle Removal: Use an acetone-free nail polish remover to avoid damaging your gel nails.
Soak and Gently Wipe: Soak a cotton pad in the remover, place it on your nail, and wrap it with foil. After a few minutes, gently wipe off the regular nail polish.
Nourish Your Nails: After removal, apply cuticle oil or nail conditioner to keep your gel nails healthy. Our Nail Dip Powder Set

can help nourish your nails.
For safe and effective nail polish removal products, check out ShopBestGoods' collection.
Nail Polish Trends for 2023
Want to stay ahead of the nail fashion curve? Explore the latest nail polish trends for 2023:
Seasonal and Occasion Trends: Discover the perfect nail polish colors for every season and special occasion. Keep your nails in sync with the latest fashion trends.
Unique Nail Art: Experiment with unique and innovative nail art techniques. Whether it's marble nails, abstract designs, or ombre effects, staying on-trend has never been more exciting.
For the most up-to-date nail polish trends, visit our Gel Nail Polish vs. Regular blog post.
Conclusion
The answer to the question, "Can you put regular nail polish over gel?" is a resounding yes! With the right techniques and high-quality products, you can achieve stunning and long-lasting nail art that combines the best of both gel nails and regular nail polish. So, don't be afraid to express your creativity and style. Your nails are your canvas, and the possibilities are endless.
For an extensive range of nail enhancement products and nail care essentials, visit ShopBestGoods. Elevate your nail game and embark on a journey of self-expression through nail art. Happy nail pampering!
Remember, your nails are a canvas for self-expression, and combining gel nails with regular nail polish opens up a world of possibilities. So, go ahead, experiment, and let your creativity shine. Your nails will thank you for it!