Are you craving a fresh nail look that combines timeless elegance with a modern twist? Look no further! Our guide is here to help you master the art of the French manicure, a nail classic that never goes out of style. Whether you're new to nail art or a seasoned pro, we've got tips, techniques, and trendy ideas to make your nails the center of attention. So, let's dive into the world of colors of French manicures and add a pop of them to your nail game!
French Manicure Techniques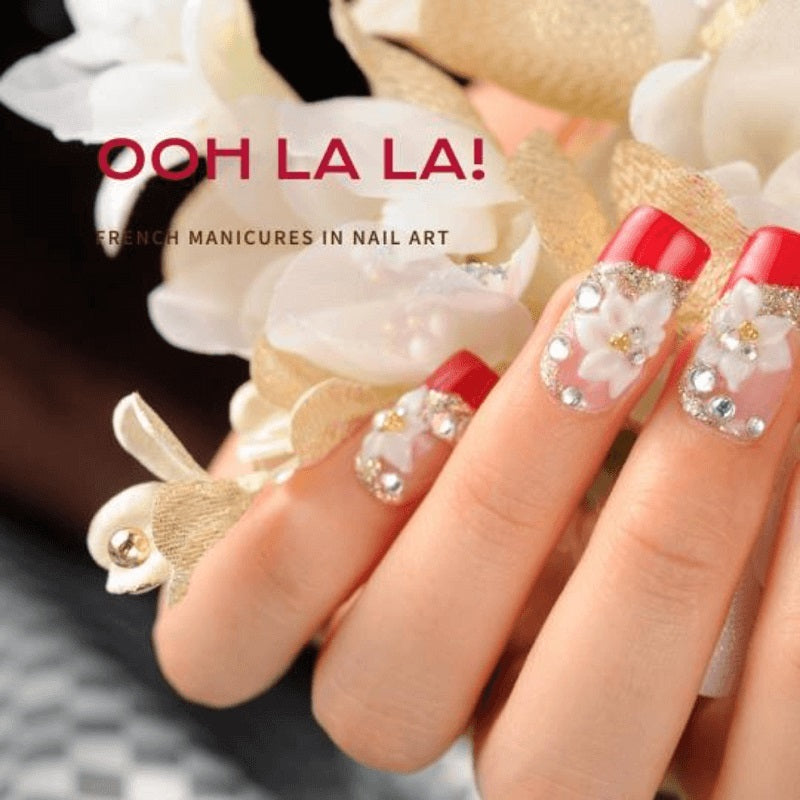 To truly appreciate the beauty of French manicures, it's essential to understand their historical significance and the evolution of techniques.
Historical Background: French manicures have roots in French salons, where they were initially popularized. They became a symbol of elegance and refinement, emphasizing clean, well-groomed nails. The classic white tips were introduced to mimic the natural color of the nail bed.
Traditional vs. Modern Approaches: While traditional French manicures stick to the classic white and nude palette, modern approaches allow for creativity. You can experiment with various nail colors, including soft pastels, metallics, and even vibrant shades.
The Role of French Manicures in Nail Art: French manicures serve as a canvas for creativity. They provide a versatile base for adding unique designs, nail art, or a pop of color. This adaptability makes French manicures a favorite choice for many.
Now that you've got a glimpse of the historical context and evolution of French manicures, it's time to explore the exciting world of nail colors.
Choosing the Perfect Nail Colors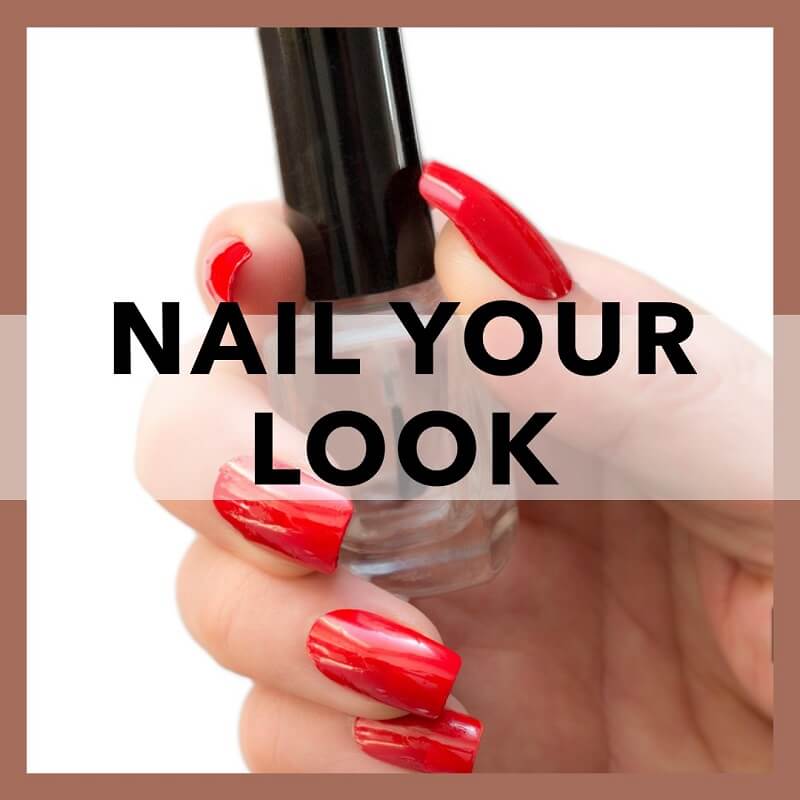 The foundation of a French manicure is its choice of colors. Classic white and nude shades are timeless, but there's room for exploration.
Classic White and Nude Shades: Traditional French manicures feature a white tip, typically stark white or off-white. Nude or pinkish tones are used for the base, creating an elegant contrast. These classic shades complement almost any outfit and occasion.
Trendy Nail Color Alternatives: While the classic French manicure remains a favorite, many nail enthusiasts are embracing trendy alternatives. Soft pastels, metallic tips, and even bold and vibrant shades can add a pop of color to your nails without sacrificing elegance.
Matching Nail Colors with Different Skin Tones: Achieving the perfect French manicure also involves selecting shades that harmonize with your skin tone. Light skin pairs well with soft pinks, while medium and darker skin tones can experiment with warmer nudes and bolder tips.
To truly master the art of French manicures, it's essential to know how to create this stunning look at home.
DIY French Manicure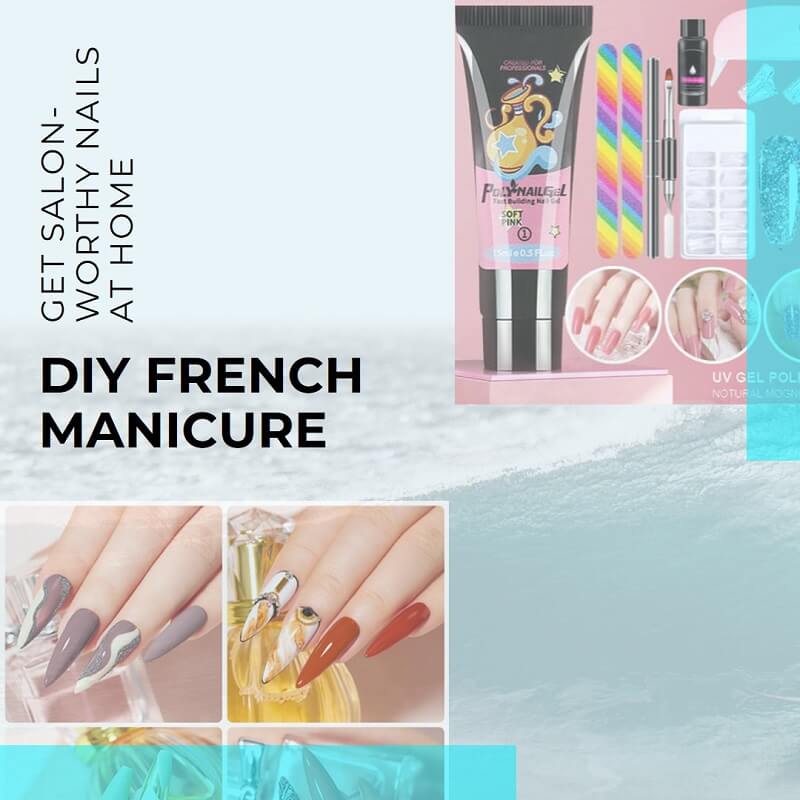 Creating a salon-quality French manicure at home is easier than you might think. Here's a step-by-step tutorial to help you achieve flawless results:
Gather Your Tools: You'll need a base coat, nail polish in your chosen shades, nail guides or tape, and a topcoat.
Prep Your Nails: Start with clean, dry nails. Trim, shape, and file your nails to your desired length and shape.
Apply the Base Coat: Apply a clear or nude base coat to your nails and allow it to dry completely.
Use Nail Guides: Place nail guides or tape just below the tips of your nails to create a clean line.
Paint the Tips: Using your chosen white or colored polish, carefully paint the tips of your nails. Remove the guides while the polish is still wet.
Add a Topcoat: Finish with a clear topcoat to seal the look and add shine.
These simple steps can help you achieve salon-quality French tips from the comfort of your home. But what about the nail polish itself?
Nail Polish Selection
Selecting the right nail polish is crucial for a stunning French manicure. Consider the following factors:
Opacity, Finish, and Drying Time Considerations: Look for nail polish with good opacity to ensure even coverage. A glossy finish adds elegance to the look. Opt for quick-drying formulas to save time.
Recommended Nail Polish Brands and Shades: Not all nail polishes are created equal. We recommend exploring reputable brands known for their quality and durability. For classic French manicures, brands like Essie and OPI offer excellent options.
Expert Tips for Long-Lasting French Tips: To extend the life of your French manicure, apply a fresh topcoat every few days. This helps maintain the shine and prevents chipping.
Now that you've mastered the basics of French manicures, let's take a moment to compare this classic style with other popular nail art options.
French Manicure vs. Other Nail Art Styles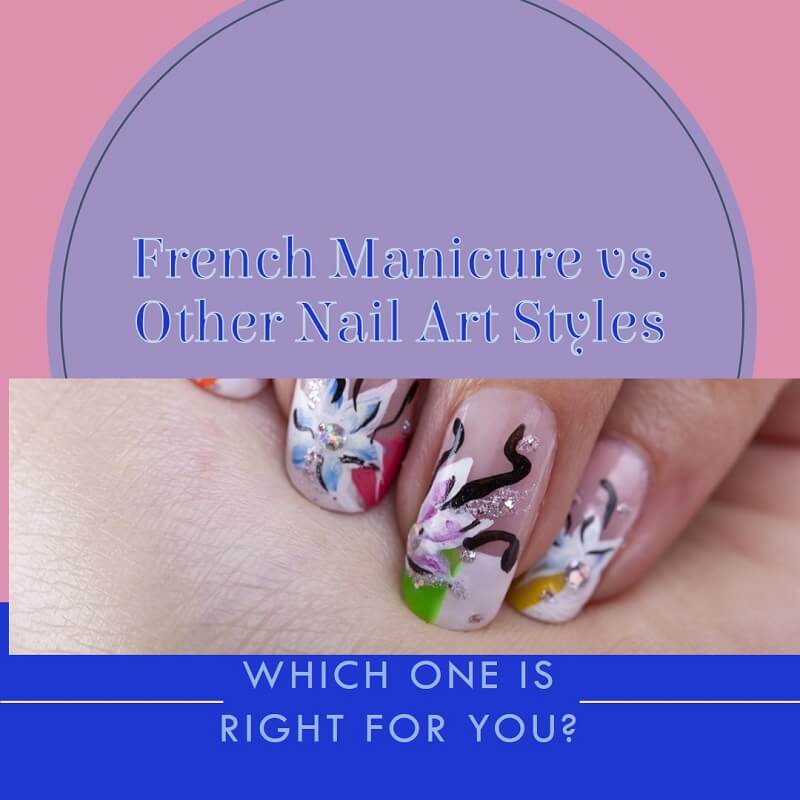 French manicures aren't the only way to showcase your nail art skills. Let's compare French manicures with alternatives like acrylics, gels, and nail extensions:
Pros and Cons of Each Nail Art Style: French manicures are known for their simplicity and elegance, making them suitable for various occasions. Acrylics offer durability and nail extension possibilities. Gels provide a long-lasting, chip-resistant option. Nail extensions can add length and intricate designs.
Choosing the Right Nail Art for Different Occasions: Each nail art style has its place. French manicures are perfect for everyday wear, while acrylics and gels are ideal for special events or when you want extra durability.
Conclusion
In summary, French manicures offer a timeless and elegant way to enhance your nails. Whether you prefer classic white tips or want to experiment with a pop of color, French manicures are a versatile choice. Now that you have the knowledge to master this iconic style, it's time to unleash your creativity and make your nails the center of attention. Feel free to explore our collection of Nail Kits to find the perfect tools for your French manicure journey. We're here to answer any questions and provide expert guidance along the way. Happy nail art adventures!
For more nail art inspiration and tips, don't forget to check out our Acrylic vs. Gel Nails blog post and our DIY Pedicure at Home guide. Explore our Acrylic Powder!