---
Product Information
The cherry pitter is a simple and efficient tool that removes the pits from cherries with ease, saving you time and hassle. Its non-slip handles provide a comfortable grip, allowing you to remove seeds from six cherries at once without any hand fatigue.

This cherry pitter tool can be used on cherries or olives of any size and shape, and its design ensures that no fruit juice is lost during the pitting process. It's a great way to teach kids to eat cherries without the worry of choking on the pits.

With its long pit rod and spoon-shaped holder, this cherry pitter easily punches through cherries and olives, removing the seeds quickly and effortlessly. The pitted cherries are collected in the holder, making it easy to clean up.

The cherry pitter is easy to clean and store, making it a must-have tool for anyone who loves to enjoy fresh cherries without the hassle of removing the pits by hand. Whether you're making cherry pies or just enjoying cherries as a snack, the cherry pitter makes it easy to remove the pits and enjoy the fruit in seconds.

Specification
Product Name : Cherry Pitter
Material: Plastic + Aluminum
Color: Classic Purple Cherry Clip
Size: 12.3*2.7*2.6cm/4.84*1.06*1.02inch
Product Image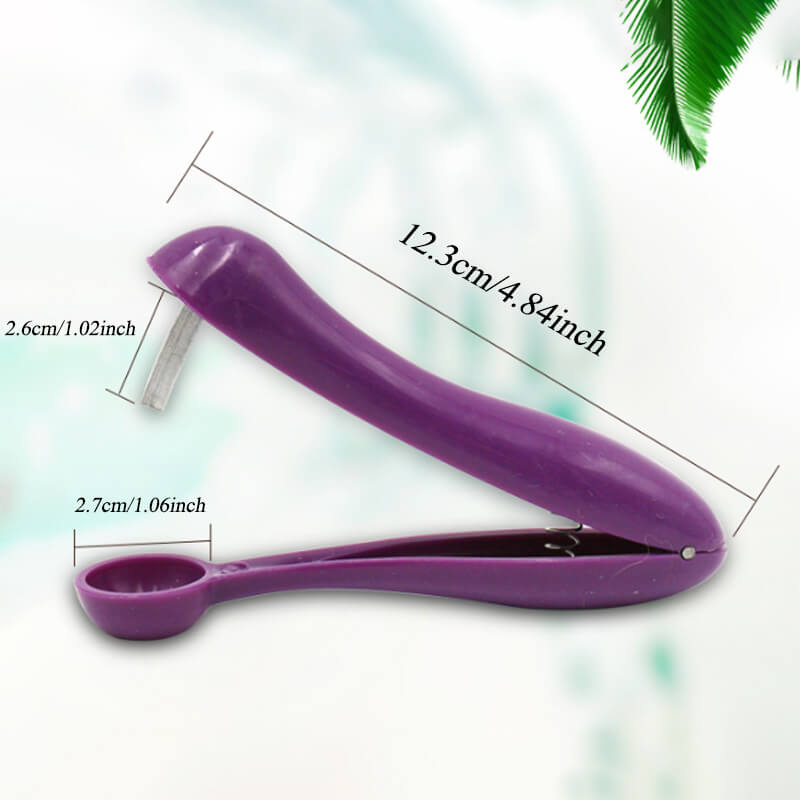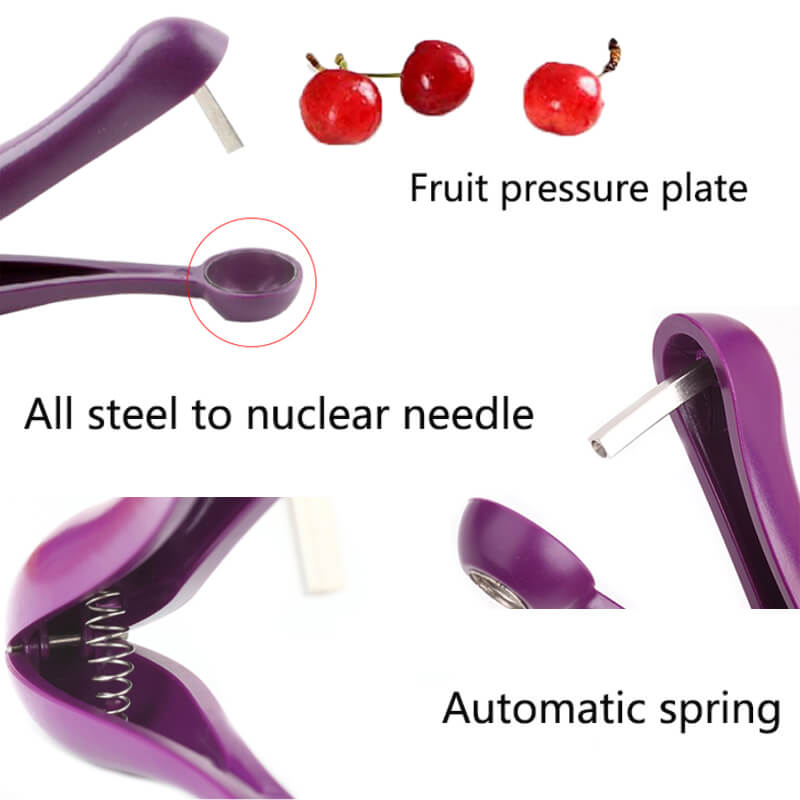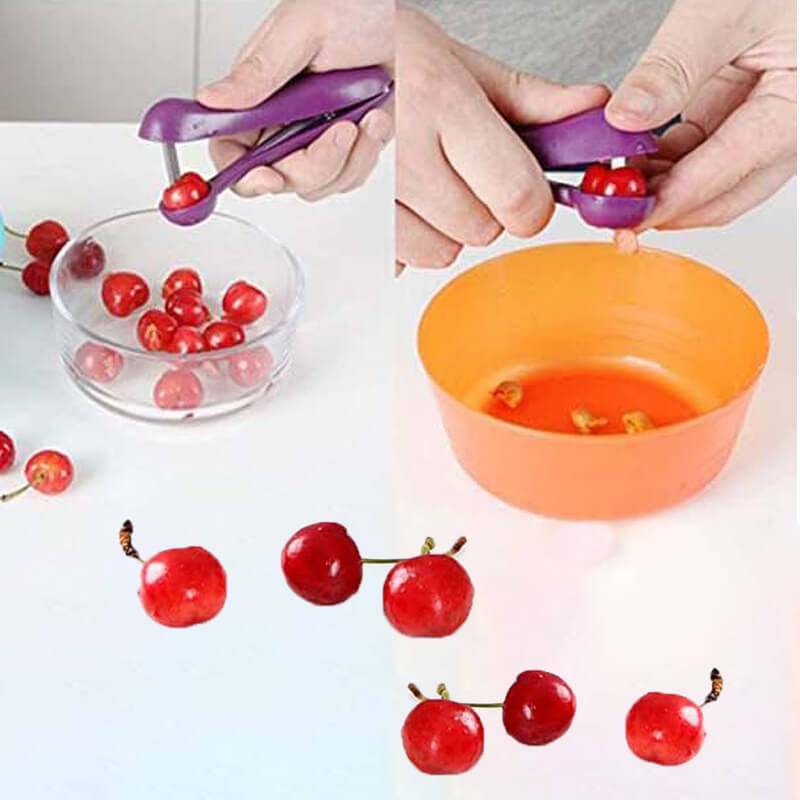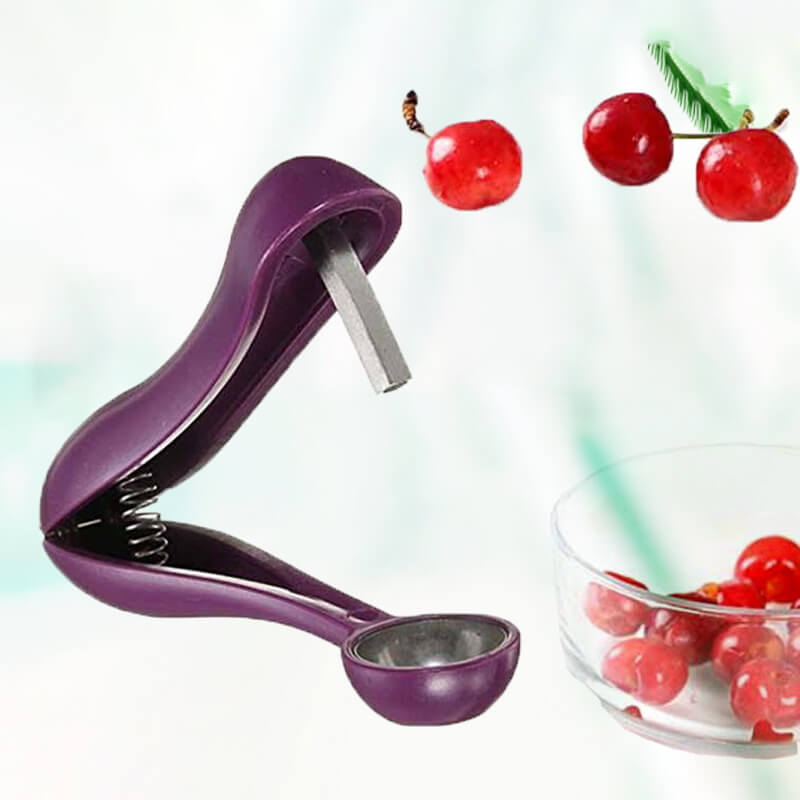 FAQ
1. What is a cherry pitter?

A cherry pitter is a kitchen tool designed to remove the pits from cherries quickly and efficiently.

2. How does a cherry pitter work?
A cherry pitter typically has a base that holds the cherry in place, and a plunger that pushes the pit out of the fruit. Some models can remove multiple pits at once.
3. Can a cherry pitter be used for olives?
Yes, many cherry pitters can also be used to remove pits from olives.
4. How many cherries can a cherry pitter pit at once?

The number of cherries a cherry pitter can pit at once depends on the model, but most can pit one to six cherries at a time.

5. Do cherry pitters work on all types of cherries?

Most cherry pitters can be used on all types of cherries, but some may not work on particularly large or small varieties.

6. Can cherry pitters be used to pit other types of fruit?

Cherry pitters are designed specifically for cherries, but they can also be used to remove pits from some types of olives.

7. How do I clean my cherry pitter?

Most cherry pitters can be easily cleaned with soap and water. Be sure to dry the device thoroughly before storing.

8. Can children use cherry pitters?

Children should always be supervised when using kitchen tools, but many cherry pitters are safe and easy to use for kids.

9. Can a cherry pitter be used for other recipes besides cherry pies?

Cherry pitters can be used to pit cherries for a variety of recipes, including cocktails, jams, and baked goods.

10. Are there any safety tips I should keep in mind when using a cherry pitter?

Always use caution when handling sharp or potentially dangerous kitchen tools, and be sure to follow the manufacturer's instructions for safe use of your cherry pitter.