---
This Dog Car Seat Cover is the perfect travel accessory for pet owners looking for a reliable, safe solution for their furry friends. Made of durable polyester, this waterproof cover is designed for all seasons and fits all size pets of dogs and cats. This universal car seat cover is a convenient and worry-free accessory for any pet parent, which is perfect for safety traveling with your pet. Keep your car clean and your pet safe.
If you have a car and a furry best friend, then you've got a recipe for success when it comes to embarking on new adventures together or traveling with the family. For that reason, you'll need a reliable dog back seat cover designed to keep your dog comfortable, safe and vehicle clean.
Protect Your Car and Pamper Your Pup with Our Dog Car Seat Cover
Life's adventures with your furry friend just got easier and more enjoyable. Our Dog Car Seat Cover is the perfect solution to keep your vehicle clean and your pet comfortable during every ride. Whether you're going on a short trip to the park or a long road trip, this seat cover has you covered.
Specifications:
Type: Dogs
Style: Classics
Season: All seasons
Pattern: Solid
Material: Polyester
Item Type: "Car Travel Accessories "
Fitable Weight: All Size Pets of Dogs and Cats
Feature: Waterproof
Applicable Dog Breed: Universal
Size: 59*56inch(Standard), 64*60inch(X-Large)
Package:1 Dog Back Seat Cover & 1 Dog Seat Belt & 2 Door Slide Straps
Features:

100% Waterproof, Comprehensive Protection.
Premium Mesh Visual Window, Better Air Circulation, No Anxiety.
Multifunctional Usage Scenarios, Easy To Switch.
Safety Travelling, Anti-slip Design, Velcro Opening For Seat Belt.
Hot Points:
Heavy-Duty Protection: Crafted from durable, waterproof materials, our car seat cover shields your car's interior from pet hair, dirt, scratches, and spills. Keep your seats looking brand new.

Universal Fit: Designed to fit most standard vehicles, including cars, SUVs, and trucks, our seat cover offers versatility and convenience for pet owners.

Secure and Safe: The seat cover features seat anchors and adjustable straps to ensure a secure and stable fit. Your pet can enjoy the ride without sliding around.

Comfortable for Your Pet: Soft and comfortable, our seat cover provides a cozy space for your dog to relax during car journeys. Mesh windows allow them to see you and enjoy fresh air without jumping onto the front seat.

Easy Installation and Cleaning: Setting up the seat cover is a breeze, and cleaning is even easier. Simply remove it, shake off the dirt, and machine wash when needed.

Storage Pockets: Convenient pockets on the seat cover allow you to store pet essentials like treats, toys, and leashes, keeping them within reach.
Why Choose Our Dog Car Seat Cover:
Pet Safety: Secure your pet in the backseat, reducing distractions and ensuring their safety during drives.

Cleanliness: Say goodbye to the stress of cleaning pet hair and mess from your car's upholstery.

Versatile: Whether you have a small dog, a big dog, or multiple dogs, our seat cover adapts to your needs.

Happy Pet, Happy You: Keep your pet comfortable and content, so you can focus on enjoying the journey together.
Make every car trip with your beloved pet a joyous and stress-free experience. Protect your car and provide your furry friend with the comfort they deserve with our Dog Car Seat Cover.
Upgrade your travel routine today. Explore our selection of Dog Car Seat Covers and embark on your next adventure with your pup in tow.
Product Image: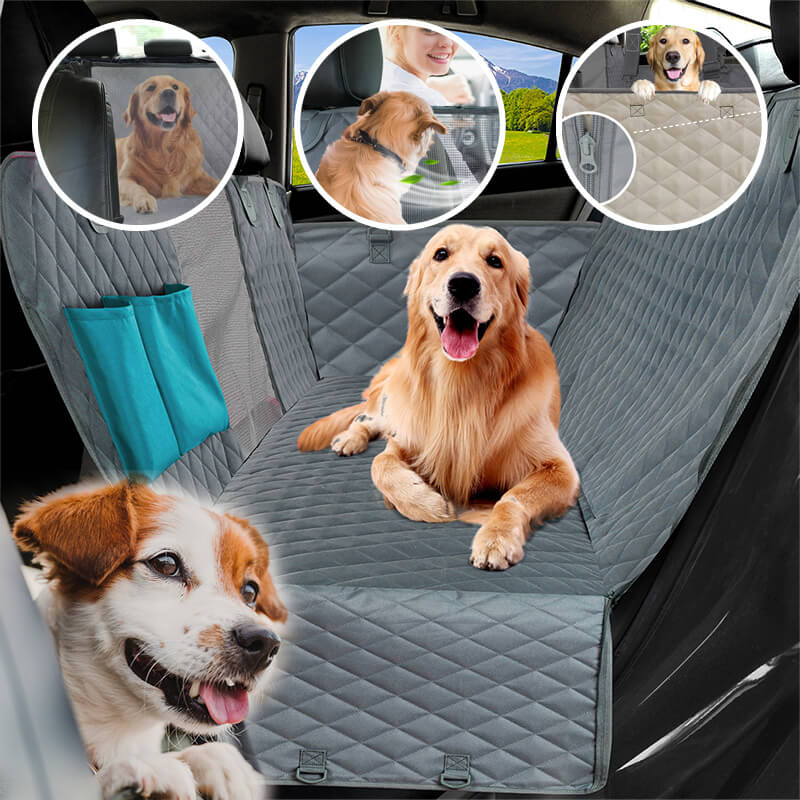 Visible Mesh Window
Provides your dog with a better air circulation in Summer and Winter. Allows dog to see you and outside clearly through the window which helps your dog reduce anxiety and keep calm when traveling.
Side Flaps Design
The convertible side flaps on dog hammock for car help your dog to get in and out of car easily, while preventing scratching the leather benches and doors.
Easy To Convert
The dog backseat cover is easy to convert between dog car hammock and standard bench coverage which allows you share the backseat with your dog. Protect your entire back seat from dirty, hair, scratch and keep it clean.
 Keep Safe
To ensure your dog's safety, our dog back seat cover is held in place by four head rest straps, nonslip backing and two devices secured to the seat. Two openings can be inserted into the dog's seat belt.
 100% Waterproof
Unique quilted dog backseat dog hammock has two waterproof layers. 600D oxford with water-resistant coating and TPU which is a new waterproof material can prevent your seats from getting stained or wet.
Wonderful Size
There are two size dog seat cover, which are larger than other dog car seat covers. Suitable for different vehicles like car, truck, SUV.

Standard (143cm Width x 152cm Length) 1.3kg
X-Large ( 153cm Width x 162cm Length ) 1.6kg
Easy To Clean
Machine Washable or Use Gentle Cycle.
Package:
1 Dog Back Seat Cover & 1 Dog Seat Belt & 2 Door Slide Straps