Protect your home from unexpected fires with this Emergency Fire Blanket. Made of 0.43mm thick fiberglass, it is an essential safety tool for any home. It can be used both as a fire retardant and a way to extinguish small fires. This fire blanket is the reliable solution for fires of any size.
Specifications:
Material: Fiberglass
Style: Fire Blanket
Thickness: 0.43mm
Regular size: 1m*1m; 1.2m*1.2m; 1.2m*1.8m; 1.5m*1.5m; 1.8m*1.8m; 2m*2m; 3m*3m
Packing List: 1x Fire Blanket
How to Use a Fire Blanket: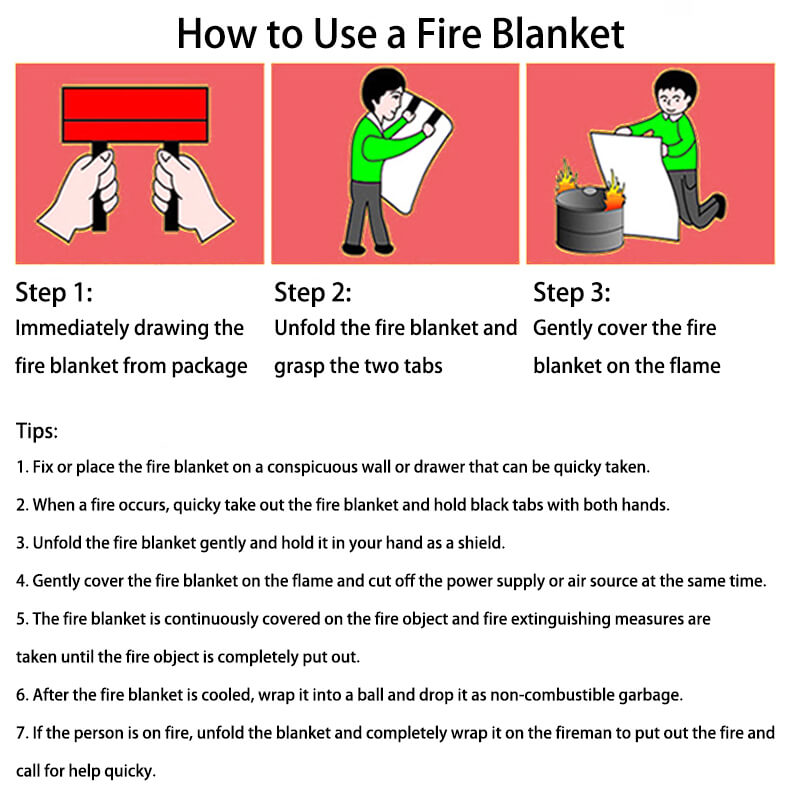 Using a fire blanket is a straightforward process. Here's how:
Uncover the Blanket: Remove the fire blanket from its storage pouch or container.

Hold Properly: Grasp the two corners or tabs of the fire blanket, ensuring the side with the tabs is facing you.

Approach with Caution: Carefully move towards the fire source, being mindful of the heat and flames. Your safety is paramount.

Cover the Fire: Position the blanket in a way that it completely covers the fire. If it's a person whose clothes are on fire, gently wrap them with the blanket.

Seal the Edges: Ensure the entire fire source and its surroundings are covered by the fire blanket. This helps in smothering the flames by cutting off the oxygen supply.

Allow Suffocation: The fire blanket works by suffocating the fire due to lack of oxygen. Leave it in place for a few minutes to make sure the fire is fully extinguished.

Cool Down and Assess: After the fire is out, wait for the covered area to cool down before touching or moving the blanket. This prevents burns.

Check Heat Sources: If the fire was caused by a heat source, confirm it's turned off and safe before removing the blanket.

Dispose Safely: Once the situation is under control and everything is cooled down, carefully fold the fire blanket. Follow the manufacturer's guidelines for proper disposal.
Always remember, fire blankets are suitable for small fires. For larger fires, evacuate the area immediately and call for professional help. Your safety is the top priority.
Product Image: