---
Are you tired of spending hours trying to get your eyebrows just right? Our eyebrow stamp kit and stencils are here to revolutionize your beauty routine. Whether you're a beginner or a makeup pro, our easy-to-use kit will help you achieve flawless brows in no time. Say goodbye to uneven brows and hello to perfectly shaped arches that frame your face beautifully.
Enhance your eyebrow look quickly and easily with our Eyebrow Stamp Kit. Designed with a black, dark brown, dark grey and medium brown plastic eyebrow stencil, it ensures perfect results every time. The kit also includes brushes and cards for easy application and a hassle-free experience. Get professionally stylized brows without a trip to the salon. Create perfect eyebrows with ease using the Eyebrow Stencils. The eyebrow stencils are designed to help you achieve the desired perfect shape for your eyebrows and hairline. Get professional-looking results with each use.
Our eyebrow stamp kit is designed for busy individuals who want to look their best without the hassle. The kit includes a variety of stamp shapes, allowing you to experiment and find the perfect style for your face shape. With a simple press, you can achieve professional-looking eyebrows that will turn heads wherever you go. The included stencils ensure consistent results every time. Join the trend and simplify your beauty routine with our eyebrow stamp kit today.
Specifications:
Product category: eyebrow stencils
Color: Black, Dark Brown, Dark Grey, Medium Brown
Material: Plastic
Use: Eyebrow, Hairline
Package Contents: Eyebrow Stamp Kit X1
Features:
Please note: other accessories are not included.

100% brand new quality

Applicable people: all skin tones

Shelf life: 3 years
How to use our eyebrow stamp
Using an eyebrow stamp can be a convenient way to achieve well-defined eyebrows quickly. Here's a step-by-step guide on how to use an eyebrow stamp:
Materials You'll Need:
Eyebrow stamp kit (usually includes the stamp itself, an eyebrow powder or pomade, and a brush)
Mirror
Tweezers (if needed)
Makeup remover (for any mistakes)
Step-by-Step Guide:
Prepare Your Brows: Start with clean and dry eyebrows. If needed, tweeze any stray hairs to achieve your desired shape. Make sure your brows are free of any oils or moisturizers, as this can affect the stamp's effectiveness.

Select the Right Stamp: Most eyebrow stamp kits come with different stamp shapes and sizes to suit various preferences. Choose the stamp that matches your desired eyebrow shape and size.

Apply Brow Powder or Pomade: Dip the included brush into the eyebrow powder or pomade provided in the kit. Gently tap off any excess product to avoid a heavy application. If your kit doesn't include product, you can use your own eyebrow makeup.

Press the Stamp: Position the stamp over the desired area of your eyebrow. Hold it firmly but gently against your brow for a few seconds to transfer the product onto your skin. Make sure not to move the stamp while pressing down.

Check and Fill: Carefully lift the stamp off your brow. Check the shape and intensity of the stamped brow. If needed, use the brush to fill in any sparse areas or to blend the product for a more natural look.

Repeat for the Other Brow: Repeat the stamping process for your other eyebrow, ensuring that the placement and shape match the first brow.

Blend and Adjust: After stamping both brows, take a moment to step back and assess the symmetry and overall look. Use the brush to blend the product and adjust the intensity if necessary.

Clean Up Mistakes: If you've made any mistakes or if the stamped brows are too intense, you can use a cotton swab with makeup remover to gently correct or adjust the shape.

Set the Brows: To ensure your stamped eyebrows stay in place throughout the day, consider using a clear brow gel or setting spray.
Remember, practice makes perfect. It might take a few attempts to get the hang of using the stamp and achieving the look you want. Additionally, some kits may come with specific instructions, so be sure to follow those if they differ from the general steps mentioned above.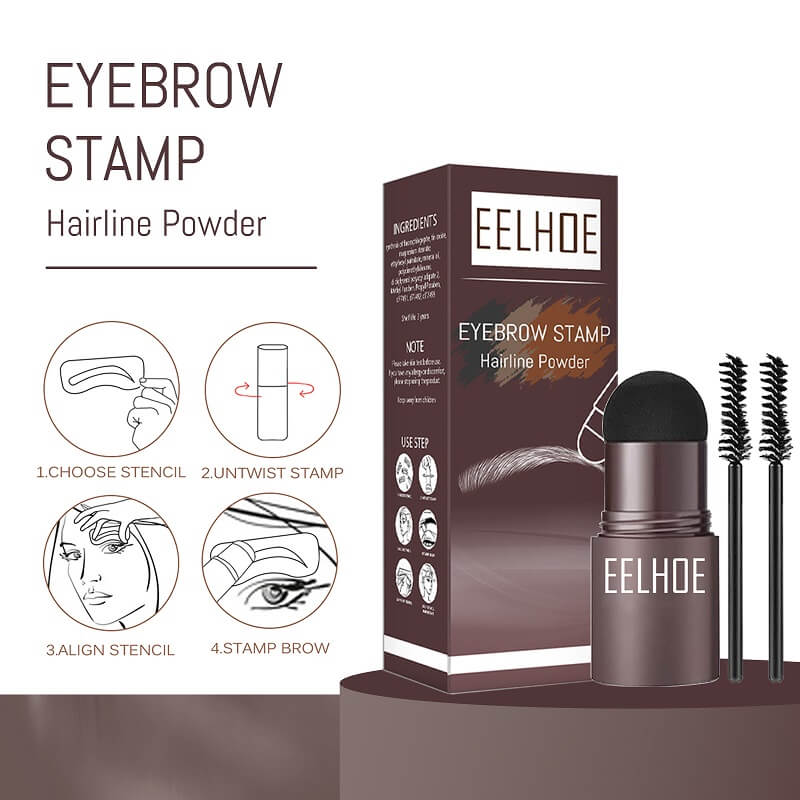 Product Image: