---
This Fort Building Kit for Kids is perfect for cultivating children's ability and creativity. It offers a DIY option with or without luminous cloth, and includes parent-child communication and hand-eye coordination training. The kit comes with all the pieces needed to create a beautiful 3D playhouse.
Ignite Imagination with Our Fort Building Kit!
Unleash the creativity of your young architects with our Fort Building Kit, where adventures are built, dreams are constructed, and memories are made. Transform any ordinary day into an extraordinary adventure with this fun and versatile kit.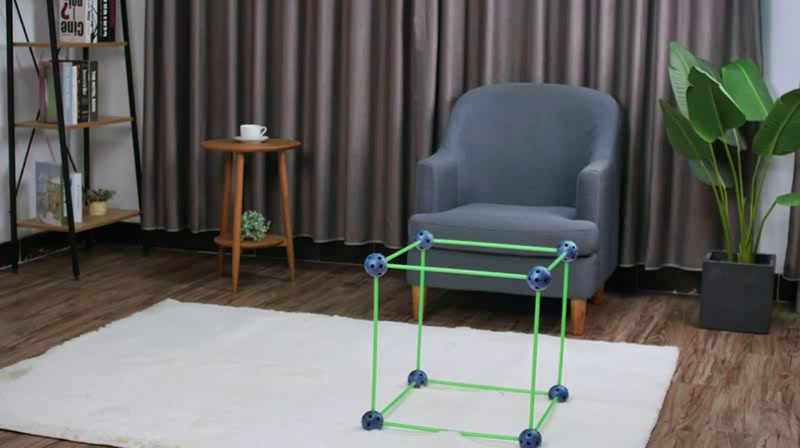 Specifications:
Features: DIY luminous
Box Size: 33.5*4.4*24cm/13.19*1.73*9.45inch
Ability training: Emotion, vision, intellectual development, crawling, manual brain, grasping, sensory, hand-eye coordination, other ability training, interactive toys, hearing, parent-child communication, interest cultivation
Style: 1: tent without cloth (87PCS), 2: tent with cloth (87PCS), 3: tent luminous without cloth (87PCS), 4: tent with luminous cloth (87PCS), 5: tent with luxury starry sky (87PCS) ), 6: tent luxury starry sky model (100PCS), 7: tent without cloth (100PCS), 8: tent with cloth (100PCS), 9: tent luminous type without cloth (100PCS), 10: tent luminous type with cloth (100PCS)
Package: Fort Building Kit x1
Features:
Building Castle Building Set: Including 51 sticks, 36 balls/64 sticks, and 36 balls. The magic-making set allows your children to build castles of various shapes and sizes!
Fun for Boys and Girls: Our kid's ultimate fortress building toolset is designed for children 5 years and older. It can build caves, game tents, rockets, houses, princess castles, tunnels, teepees, toy tents, the pirate ship, just add a sheet to create a hideout.
Easy to Assemble and Durable: It is made of sturdy high-quality plastic, just insert and screw the rod into the ball, the builder can connect in a few seconds, easy to disassemble, and it will not deform. It comes with a storage bag, suitable for indoor and outdoor activities.
Stimulate Creativity and Imagination: The perfect innovative toy, suitable for children 2-3 years old and above. Children work hard to plan and solve problems, build different innovative structures, perfect educational toy gifts, suitable for birthdays, holidays, Christmas, Halloween, and New Year!
Luminous Version: The sticks and balls can emit bright light at night, which is more atmospheric, and there are more starry tents to choose from!
Why Choose Our Fort Building Kit:
Encourage Creativity: Foster imaginative play and problem-solving skills as kids design and construct their own fortresses.

Quality Family Time: Building forts together strengthens bonds and creates cherished memories for both kids and adults.

Screen-Free Entertainment: Provide an alternative to screen time with an activity that promotes active play and creativity.

Great for Parties: Take playdates and birthday parties to the next level with exciting fort-building challenges.
Our Fort Building Kit is more than just a toy; it's a gateway to a world of adventure and creativity. Watch as your child's eyes light up with excitement as they bring their fort-building dreams to life.
Order your Fort Building Kit today and witness the magic of imagination in action!
Product Image: