---
2 in 1 acrylic and dip powder set which features six pastel colors ideal to sculpting 3d nail arts in three different ways: down 3D, flat 3D and high 3D. This pigment has a special blending formula which provides flawless consistency and superior adhesion while delivering exceptional strength and durability to nails enhancements. Whether you're a beginner or a seasoned nail artist, these sets provide everything you need for stunning, salon-quality results from the comfort of your own home.
Note:
Colors may vary in light and/or depending on the color of monomer that is being used.

There are no any box !(just for display the colors) please note it !
Specifications:
Styles items for: Colored Acrylic Powders
Pattern items: Acrylic & Dip Powder Collection
Pack color: 10pcs or any quantity you need
Number of Pieces: One Unit
NET WT: 7-9g powder
Item Type: Acrylic Powder & Liquid
Ingredient: acrylic powder
1 lot: 20jars, 30jars, 40jars as your choice
Features:
🌈 Endless Variety: Our Dip Powder Sets offer an array of vibrant colors and captivating shades that allow you to experiment and create a multitude of nail designs. From classic neutrals to bold statement hues, these sets cater to every style and mood.
💅 Professional Finish: Achieve a professional finish without the hassle of salon appointments. Our Dip Powder formula is designed for long-lasting wear, ensuring your nail designs remain flawless and vibrant for weeks on end. Say goodbye to chipping and hello to enduring elegance.
🎨 Creative Freedom: Unleash your creativity with the multitude of colors at your fingertips. Our Dip Powder Sets empower you to explore various techniques, from intricate nail art to stunning ombré effects. Elevate your nail game and turn your nails into canvases of self-expression.
✨ Easy Application: Whether you're a DIY enthusiast or a nail artist in training, our Dip Powder Sets make the application process a breeze. The sets include everything you need for seamless application, allowing you to achieve stunning results with ease.
Explore the possibilities of nail artistry with our Dip Powder Sets. Choose the size that suits your needs and let your creativity flourish. Elevate your nail designs, transform your look, and enjoy the convenience of salon-quality nails in the comfort of your own space.
Product Image: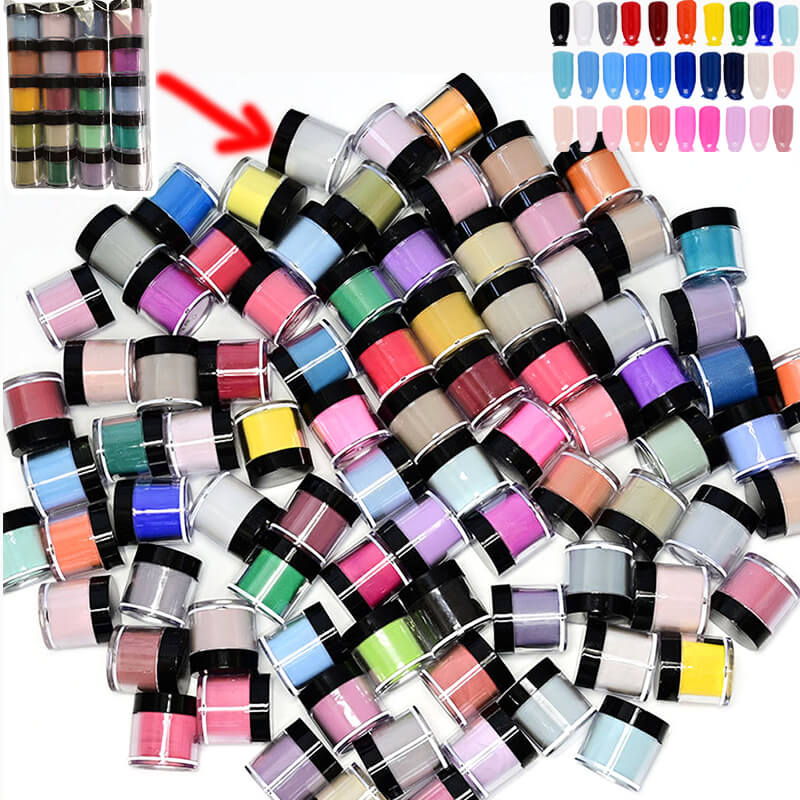 * These products exclude box, which is only for display