---
Are you concerned about your exposure to nuclear radiation? Our cutting-edge Nuclear Radiation Detector is here to provide you with peace of mind and reliable safety assurance. Whether you're a professional working with radioactive materials, a researcher, or simply someone who wants to monitor their environment, our detector offers the accuracy and reliability you need. 
Elevate your safety game with the Ultimate Nuclear Radiation Detector. This advanced device empowers you to monitor radiation levels effortlessly, whether at home or work. Stay informed, stay secure – because your safety matters. Ensure a safe area with the Nuclear Radiation Detector.
Specifications:
Types of detection rays:: y-ray, x-ray,B-ray
Sensitivity:: 80CPM/uSv (For Co-60)
Product name:: Nuclear radiation detector
Power supply:: 1100mAh lithium battery
Origin: Mainland China
Language:: Chinese/English switch
Energy range:: 48keV-1.5Mev≤±30% (for 137Cs-)
Dose equivalent rate:: 0.00-1000uSv/h (10mSv/h)
Dosage unit:: μSv/h,μGy/h,mR/h,cps,cpm Switch
Detector:: Energy Compensation GM tube (Geiger Technology tube )
Cumulative dose equivalent:: 0.00μSv-500.0mSv
Certification: CE
Alarm method:: light, vibration, sound
Key Features:
Precision Detection: Our nuclear radiation detector employs state-of-the-art sensor technology, ensuring precise and real-time measurements of various types of radiation, including alpha, beta, gamma, and X-rays.

User-Friendly Interface: The intuitive interface makes it easy to operate the detector, even for those without technical expertise. The clear display provides instant readings, allowing you to quickly assess radiation levels.

Portability and Convenience: Designed with portability in mind, our detector is compact and lightweight, allowing you to carry it wherever you go. Whether you're in the field, the lab, or at home, monitoring radiation is effortless.

Audible and Visual Alarms: Set customizable alarms based on radiation thresholds. The detector alerts you with both audible alarms and visual cues on the screen, ensuring you're aware of any significant changes in radiation levels.

Data Logging and Connectivity: Keep track of radiation exposure over time with the built-in data logging feature. Connect the detector to your computer via USB or Bluetooth to analyze and store data for future reference.

Battery Longevity: Our nuclear radiation detector boasts an extended battery life, ensuring it remains operational during crucial moments. The energy-efficient design means you can rely on it for extended periods.
Applications:
Industrial Safety: Use our detector to ensure the safety of workers in industries dealing with radioactive materials, such as nuclear power, healthcare, and research.

Environmental Monitoring: Detect radiation levels in the environment, helping government agencies and environmental organizations ensure public safety.

Emergency Preparedness: In the event of a nuclear incident, our detector becomes an indispensable tool for emergency responders and first responders to assess risks and make informed decisions.

Educational Use: Educators can use our detector to teach students about radiation, its types, and safety measures, fostering a deeper understanding of the subject.
Product Image: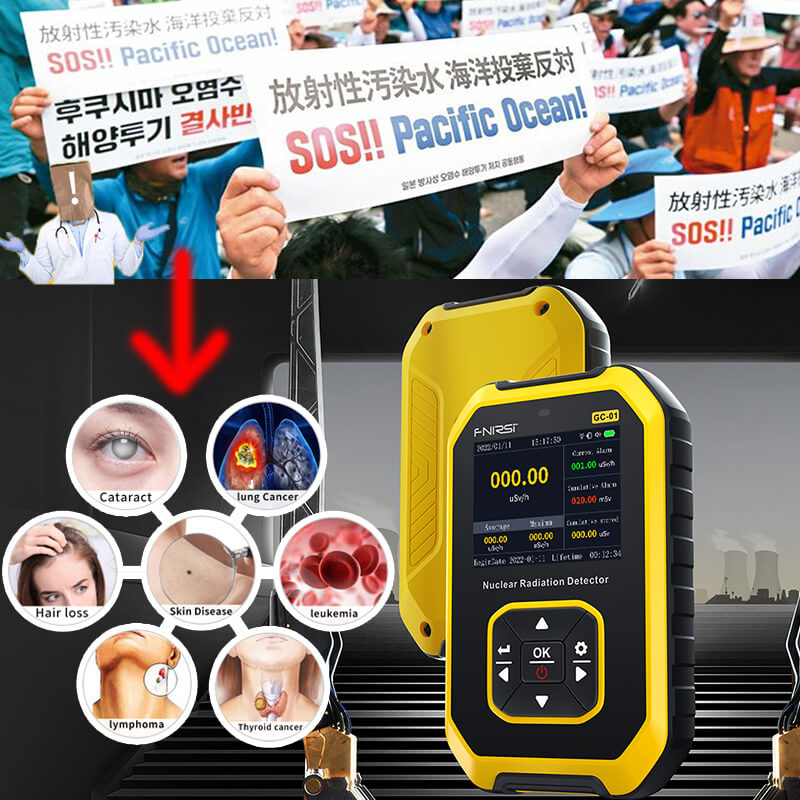 FNIRSI GC-01 Product Manual:https://www.mediafire.com/file/qejiy9xhlsujxrk/%25E6%25A0%25B8%25E8%25BE%2590%25E5%25B0%2584%25E8%25AF%25B4%25E6%2598%258E%25E4%25B9%25A6%25E3%2580%2590%25E7%2594%25B5%25E5%25AD%2590%25E6%25A1%25A3%25E3%2580%2591_V-06_23.02.17.pdf/file
The FNIRSI GC-01 nuclear radiation detector uses a higher-precision Geiger-Miller counter.
Counter for detecting the intensity of ionizing radiation (beta particles, gamma rays and x-rays).
Use a gas tube or a small chamber as a probe.When the voltage applied to the probe reaches a certain range.Each time the ray is ionized in the tube to produce a pair of ions, it can be amplified to produce an electric pulse of the same size.And recorded by the connected electronic device.The number of rays per unit time thus measured.The alarm threshold measurement rate can be arbitrarily selected.
Product testing and evaluation:https://www.youtube.com/watch?v=TynpfXSBdhU