---
Baking enthusiasts, rejoice! The secret to flawless baking lies in the innovative silicone baking mat. Say goodbye to unevenly baked treats and sticky messes – our silicone baking mats are here to transform your baking experience.
Specifications:
Shape: Square
Material: Silicone
Size: 26*29cm, 30*40cm, 40*60cm
Why Choose a Silicone Baking Mat?
Silicone baking mats are a game-changer for both amateur and professional bakers. They offer a non-stick surface that eliminates the need for greasing pans, resulting in easy release and perfectly baked goods. Additionally, silicone mats are reusable and eco-friendly, reducing the need for disposable parchment paper.
Features of Our Premium Silicone Baking Mats
Our collection of silicone baking mats boasts a range of features designed to enhance your baking endeavors:
Non-stick surface for easy release of baked goods.
Heat-resistant material that withstands high oven temperatures.
Even heat distribution for uniform baking.
Measurement markings for precise dough rolling.
Easy-to-clean surface that resists stains and odors.
How to Use and Care for Your Silicone Baking Mat
Using a silicone baking mat is simple:
Place the mat on a baking sheet or tray.
Arrange your dough or batter on the mat as directed by your recipe.
Bake as usual, following the recommended temperature and time.
Cleaning is a breeze:
Let the mat cool completely.
Wipe off any crumbs or residue.
Wash with warm, soapy water or place in the dishwasher.
Roll or fold the mat for compact storage.
Elevate Your Baking with Mess-Free Results
Bid farewell to scrubbing baking pans and wrestling with parchment paper. Our silicone baking mats ensure that your baked goods effortlessly slide off, leaving you with more time to savor the delicious results.
Shop Our Silicone Baking Mats
Ready to revolutionize your baking game? Explore our range of silicone baking mats and choose the one that suits your baking needs. From basic non-stick options to mats with measurements for precision, we have the perfect mat to elevate your baking endeavors.
Product Image: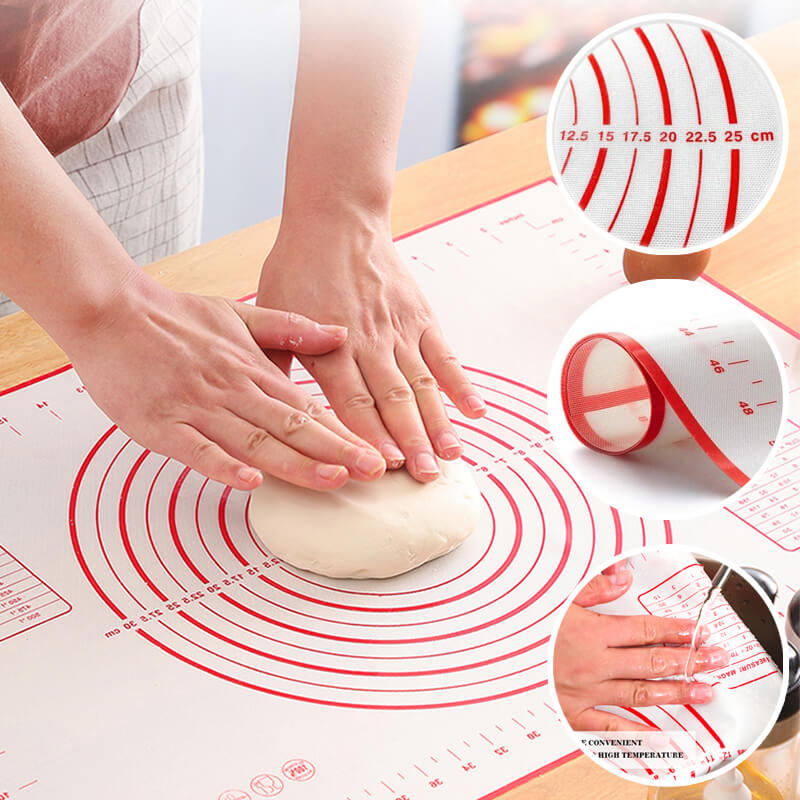 FAQs about Silicone Baking Mats:
1. What is a silicone baking mat, and how does it work?
A silicone baking mat is a non-stick, flexible sheet that replaces parchment paper or greasing. It ensures even baking, easy food release, and hassle-free cleanup.
2. Are silicone baking mats safe to use in the oven?
Yes, silicone baking mats are safe for use in the oven. They are heat-resistant and can withstand high temperatures typically used in baking.
3. Can silicone baking mats replace parchment paper?
Absolutely! Silicone baking mats are an eco-friendly alternative to parchment paper. They're reusable and eliminate the need for constant replacement.
4. Do I need to grease a silicone baking mat?
No, silicone baking mats have a non-stick surface, so there's no need to grease them. Your baked goods will easily release without sticking.
5. How do I clean and maintain a silicone baking mat?
Cleaning is simple. After use, wipe off crumbs or residue, wash with warm, soapy water, and air dry. Avoid using abrasive scrubbers to prolong its life.
6. Can I use silicone baking mats for roasting vegetables and meats?
Yes, silicone baking mats are versatile. You can use them for roasting veggies, meats, and even to prevent delicate foods from sticking on the grill.
7. Are silicone baking mats dishwasher-safe?
Many silicone baking mats are dishwasher-safe, but it's recommended to check the manufacturer's instructions to ensure their longevity.
8. How do silicone baking mats benefit the environment?
Silicone baking mats are reusable, reducing the need for disposable parchment paper. This helps minimize waste and contributes to eco-friendly baking.
9. Can I use silicone baking mats for candy making or chocolate work?
Yes, silicone baking mats are ideal for candy making and chocolate work. They provide a non-stick surface for easy shaping and removal.
10. Can I cut the silicone baking mat to fit my baking pan?
Yes, many silicone baking mats can be easily trimmed to fit various pan sizes. Just ensure that you're not compromising its integrity.