---
Are you ready to elevate your culinary endeavors? Our silicone spatula set offers a versatile range of kitchen tools designed to make cooking a breeze. Whether you're a seasoned chef or a home cook, our premium spatulas are here to assist you in every step of your cooking journey.
Unleash Your Culinary Creativity with Our Silicone Spatula Set
Cooking is an art, and our silicone spatula set is your palette. With a variety of shapes and sizes, these spatulas are perfect for folding, mixing, scraping, and spreading. From flipping pancakes to sautéing vegetables, our spatulas ensure precise control over your ingredients.
Why Choose Our Premium Silicone Spatulas?
Quality matters, and our spatulas stand out for a reason. Crafted from high-grade silicone, these spatulas are heat-resistant, ensuring they won't melt or warp during cooking. The ergonomic handles provide a comfortable grip, reducing fatigue even during prolonged cooking sessions.
The Perfect Blend of Flexibility and Durability
Our silicone spatulas strike the perfect balance between flexibility and durability. The silicone heads are flexible enough to glide effortlessly across pans, yet sturdy enough to withstand pressure when scraping. This combination ensures your spatulas remain in top-notch condition for years.
A Spatula for Every Cooking Task
From the smallest detail to the most demanding task, our set includes spatulas tailored for various purposes. Use the thin and flexible spatula for delicate tasks like flipping eggs, while the larger spatula is ideal for stirring sauces and batters. Our collection covers all your cooking needs.
Easy Cleaning and Maintenance
Cleaning up after cooking should be hassle-free, and our spatulas ensure just that. The non-stick silicone surface prevents food residue from sticking, making cleanup a breeze. Additionally, our spatulas are dishwasher-safe, saving you time and effort in the kitchen.
Elevate Your Cooking Experience with Silicone Spatulas
Incorporating our silicone spatula set into your kitchen arsenal isn't just about having tools; it's about transforming your cooking experience. Say goodbye to scratched pans and frustrating food sticking incidents. Embrace the efficiency and ease that our premium spatulas bring to your kitchen.
Specifications:
Elaborate material: silicone + rubber wood

Silica gel:
1. Direct contact with food, good flexibility, not afraid of pulling and kneading.
2. It can withstand a temperature difference of -40ᄚC to 230ᄚC, is stable and durable, and is also used in infant products and medical plastic
Wait, use environmental protection assured.

Rubber wood:
The wooden structure is thick and uniform, with slanted texture, harder wood, light yellowish brown color, obvious annual rings, dark circles on the ring boundary, and few tube holes.
Maintenance tips:

Avoid exposure to the sun, so as not to cause discoloration and yellowing of the silicone, cracking the wooden handle
Do not use corrosive cleaning agents or hard objects to clean, it is recommended to wipe with a soft cloth.
Make sure that it is dry before each use and before storage.
Features and Benefits of Silicone Spatula Set:
Food Grade Silicone: Food grade silicone can withstand temperatures up to 446°F/230℃, you do not have to worry they will melt if you accidentally leave them in the pot for a while. Food grade silicone does not react with food or beverages, or produce any hazardous fumes.
Protect Your Cookware: The food grade silicone heads cannot scratch or damage nonstick cooking pots, pans and woks like metals do. This makes them very friendly when dealing with non stick surfaces.
Ergonomic Design: Our silicone kitchen utensil set is ergonomically designed, which makes it easier to use. Each one of them in the cooking utensils has the perfect shape for its exclusive function. Moreover,a storage barrel is prepared for you to organize and put the cooking set.
Easy to use and wash: Silicone cooking utensils are stain-resistant. This is because of the non-porous characteristic of silicone. So that it doesn't retain odors or colors when you use it for stirring deep-colored food like tomato-based food products. This also lends the silicone products to easier cleaning or washing.
Product Image: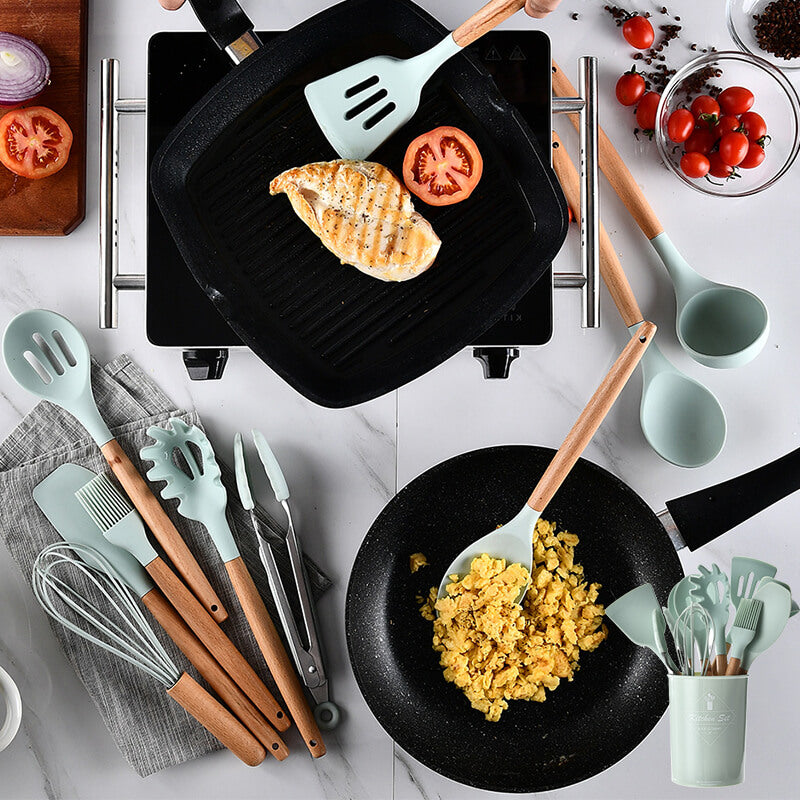 FAQs about silicone spatula sets
1. What is a silicone spatula set, and how does it differ from regular spatulas?
A silicone spatula set consists of kitchen tools with silicone heads and handles. Unlike traditional spatulas, silicone ones are heat-resistant, non-stick, and gentle on cookware, making them versatile for various cooking tasks.
2. Can I use silicone spatulas on high heat?
Yes, silicone spatulas are designed to withstand high temperatures, typically up to around 600°F (315°C). This makes them suitable for cooking tasks such as sautéing, stirring, and flipping.
3. Are silicone spatulas safe for non-stick cookware?
Absolutely! Silicone spatulas are gentle on non-stick surfaces, preventing scratches that metal utensils might cause. They won't damage the non-stick coating and help extend the life of your cookware.
4. How do I clean silicone spatulas?
Cleaning silicone spatulas is easy. Most are dishwasher-safe, or you can wash them by hand with warm, soapy water. The non-stick surface ensures that food residues don't cling, simplifying the cleaning process.
5. Are silicone spatulas durable and long-lasting?
Yes, silicone spatulas are known for their durability. The flexible yet sturdy nature of silicone makes these spatulas resistant to wear and tear. With proper care, they can last for years.
6. Can I use silicone spatulas for baking?
Absolutely! Silicone spatulas are great for baking tasks like mixing batter, scraping bowls, and spreading icing. Their heat resistance and flexibility make them perfect for various baking needs.
7. Are there different types of silicone spatulas in a set?
Yes, most silicone spatula sets come with a variety of spatulas tailored for different tasks. You'll typically find thin and flexible spatulas for flipping, larger ones for stirring, and maybe even specialized shapes for specific tasks.
8. Are there any precautions I should take when using silicone spatulas?
While silicone spatulas are safe and versatile, avoid exposing them to direct flames or extremely high temperatures. Also, avoid using them to cut or chop ingredients directly on hard surfaces, as this could damage the spatula.
9. Can I use silicone spatulas with acidic ingredients?
Yes, silicone spatulas are resistant to acidic ingredients like tomatoes and citrus fruits. Unlike some materials that can react with acids, silicone won't change the taste of your food.
10. Where can I buy a high-quality silicone spatula set?
You can find silicone spatula sets in kitchen supply stores, online marketplaces, and department stores. Make sure to read reviews and choose a reputable brand that offers quality and durability.