---
Product Information:
Say goodbye to the hassle of cutting and slicing watermelons and hello to effortless, mess-free slicing with this amazing kitchen gadget.

Crafted from high-quality stainless steel, our watermelon windmill slicer features sharp blades that easily cut through the toughest watermelon skin. Simply place the slicer onto your watermelon and turn the handle, and watch as perfectly sliced pieces of juicy watermelon are effortlessly revealed.

Not only does this slicer save you time and effort, but it also helps you avoid the mess and frustration of cutting watermelons by hand. With its simple yet effective design, you'll be able to enjoy fresh, perfectly sliced watermelon in no time.

Whether you're entertaining guests or simply enjoying a refreshing snack, our watermelon windmill slicer is the perfect addition to any kitchen. It's easy to use, easy to clean, and will quickly become your go-to tool for slicing watermelons.

So why wait? Make your life easier and your watermelon slicing experience more enjoyable with our watermelon windmill slicer. Order yours today and start enjoying perfectly sliced watermelon like never before!

Specifications:
Size: Approx. 27*3*7.5cm/10.63*1.18*2.95inch
Material: Stainless Steel, PP
Style: Double Knife
Fruit & Vegetable Tools Type: Shredders & Slicers
Type: Fruit and Vegetable Tools
Features: Watermelon, Cantaloupe
Features:
Controllable Thickness
Watermelon cutting ruler slice between 0-2 cm thick with automatic cutter blade
Help to measure 0-2CM cubes as your ideal size.
Save Your Space in Kitchen
Product Image: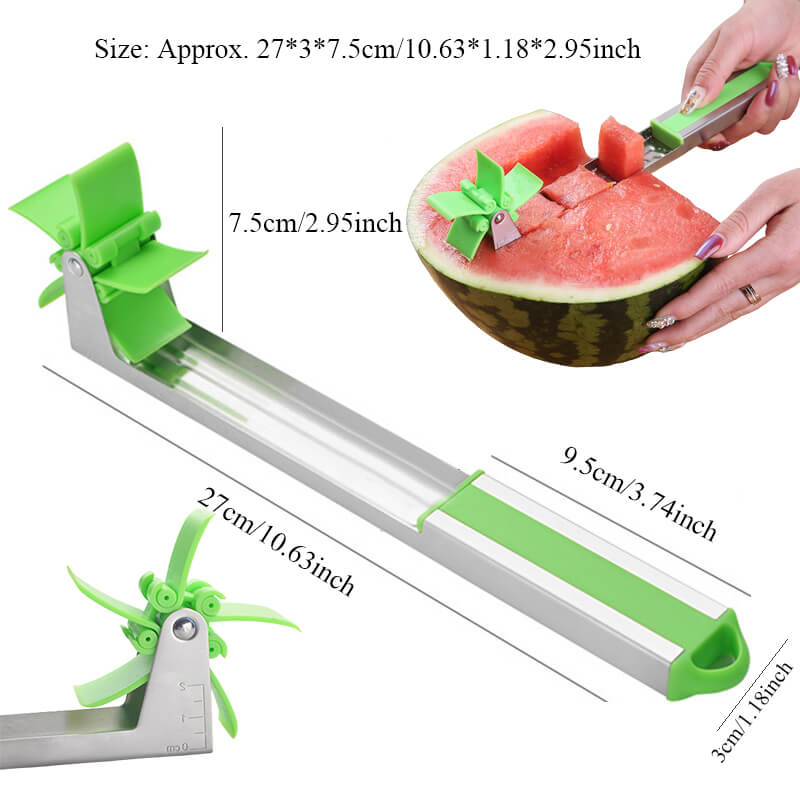 How to use the Watermelon Windmill Slicer?
You could be enjoying your juicy watermelon in 4 steps without dealing with drippy mess!
Step1: Cut your watermelon in half and cut off one end of each half.
Step2: Decide how big you want your watermelon cubes to be, up to 2cm each.
Step3: Simply slide the Stainless Steel Watermelon Slicer into the watermelon.
Step4: Enjoy your bite-size watermelon pieces!